Christophe Michalak | Maître Pâtissier
At 14 years old, I was done with school and wanted to work with my hands. Be a comic book artist or, at the very least, get into the world of Fine Arts.
Finally, I decided to pursue an internship in order to figure out what I really wanted to do. I loved pastry but, as far as I was concerned, it wasn't really a work option… so I gave cooking a try.
That was an unfortunate decision. I worked for 3 days at a countryside restaurant that had andouillettes and fries on the menu and where the chef would constantly harass me.
Back at my mom's, I told her I was done with cooking and that I would be embracing the pastry profession. Right then, in my 15-year old head, I promised myself I would become an elite pastry chef.
At first, I would bake pastries at home for my close friends. I have always loved the idea of playing with 3 or 4 ingredients and developing something out of it. I started with custards (which I love), Succès or Paris Brest.
My first pocket money income came from selling cakes to my mom's girlfriends 😉
Then, I decided to make it my career and started traveling all across the globe to learn the ropes.
Back in 1993, there were very few pastry publications or books. Social media and the internet weren't even born… Therefore, the only option was to acquire the rare magazines that existed back then and to re-create ALL the recipes.
My goal was to master all the trade secrets, understand textures, emulsions, flavor combinations, etc. In short, the apprenticeship of taste.
Learning and mastering the taste nuances between a mandarin and a clementine, testing vanillas from different terroirs and being able to tell them apart each time… that was my day-to-day, and it gave me strength. I developed my craft by practicing and developing my taste.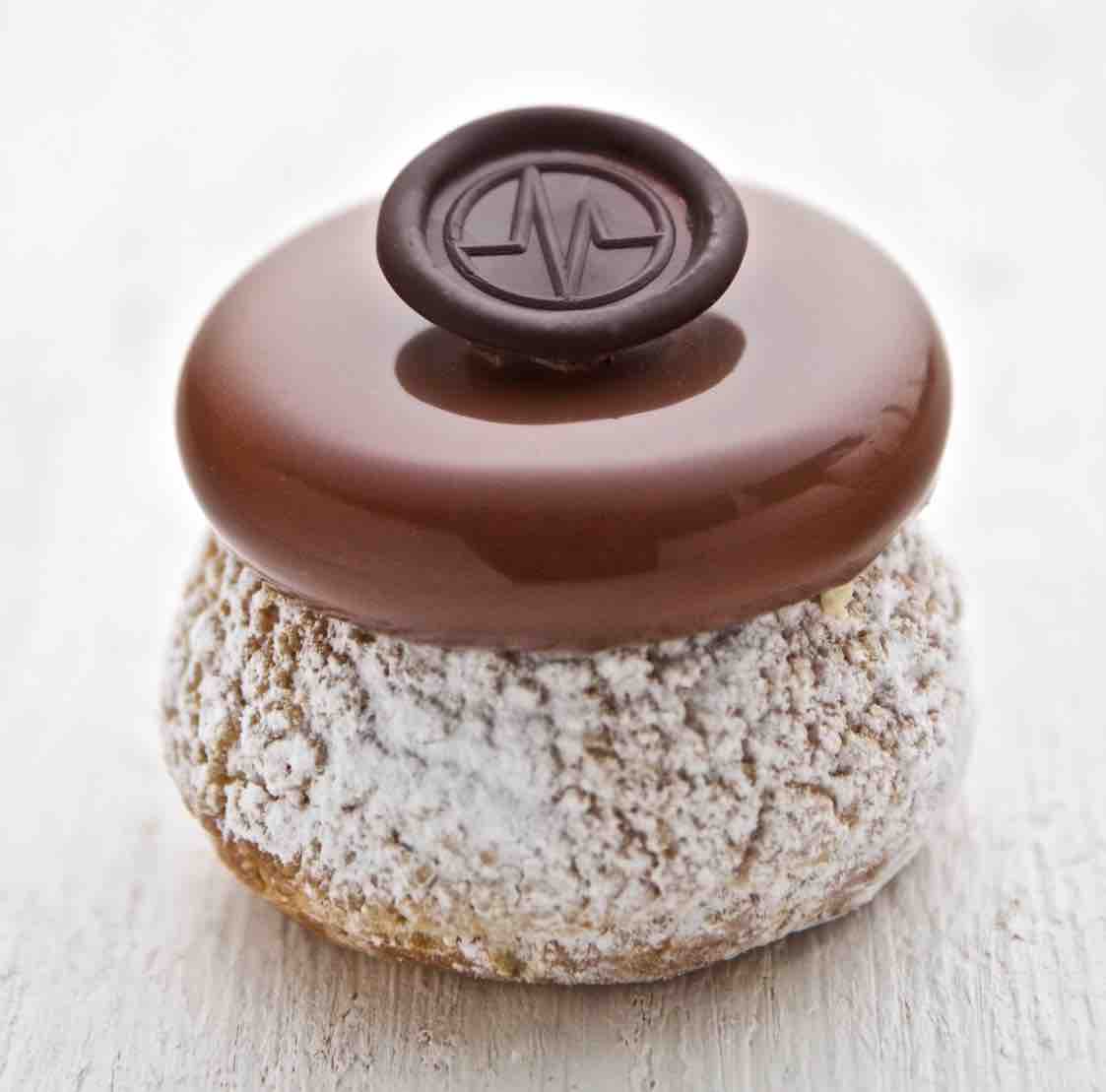 Even today, at 46 years old, I taste everything, and I am always questioning myself. I am curious, I am a perfectionist, and this has been a quasi-lifelong pursuit.
My other two passions are art and architecture. They have proven to be a constant source of learning and inspiration. I see so many similarities with pastry.
The art of seducing through a cake's look is a true prowess, it's about knowing how to make it elegant and sexy. Then, it's about building its foundations, imagining its textures: soft, crispy, fondant, etc. But, above all, it needs to trigger a genuine emotion when tasted…
At the end of the day, it's the same goal than with a painter, sculptor or architect but with one difference. We have an additional step… the emotion of tasting something that is ephemeral…
It took me a long time to be able to describe my pastry style. This is where I landed:
E as in Elegance
E as in Équilibre (Balance)
E as in Emotion
E as in Efficiency
This last word came up later in my career. I wanted to create my style but also be able to describe my entire philosophy as… efficient (efficient to realize, efficient to transport, efficient to slice, efficient to eat, efficient to digest).
To understand this, we need to look at my entire body of work from 2000 to 2012 when design was being pushed to limits. Today my style is pure, fluid, neat… just like the moves of a karate master. When I was younger, I was more explosive, and I wanted my creations to be the same. This meant a lot of precision work but did not translate necessarily into something that was profitable or efficient in terms of taste and textures.
Today, I am more cerebral about what I do. I think about how my customer will transport their cake and how they will slice it. I even think about digestion and I'll offer a lighter or gluten-free option.
In short, I am insatiable about the quality of my products and I question myself on a daily basis: how to improve, how to stay up-to-date and offer the best possible cakes.
As an example, my caramel religieuse, which was first conceived in 2000, has gone through hundreds of iterations after 18 years.
My wife will say that I am always ON, in constant creation mode. No matter where I go, I am a sponge. I will draw inspiration from the window display of a fashion store or a conversation with my neighbors on the latest expo. I try to live with the times and be a bit of a precursor.
That's what drives me to reinvent myself every day, to keep my head high but at the same time to stay humble. To always do better. At the end of the day, that might just be the secret to be a pastry chef 😉